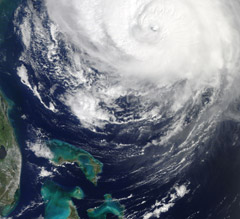 One of the most common questions I hear from brides, grooms, and even frequent travelers is about how a hurricane could possibly impact their Caribbean destination wedding, honeymoon or vacation. This is a valid concern especially to those of us from the Seattle and Portland areas, whose only exposure to this weather phenomenon is from what we see on the news.
The reality of hurricanes is that they are seasonal and they are possible. Although NOAA identifies hurricane season as June through December, hurricanes can (and do!) occur any time. In my experience, however, the hurricane activity that Caribbean vacationers should watch out for is concentrated in September and October. In fact, there's a Caribbean saying about hurricanes: "June, too soon. July, stand by! August, look out, you must! September, remember. October, all over"(but do take that with a grain of salt = my son and daughter and law honeymooned in Jamaica in October and only saw gorgeous weather).
We hear a lot about hurricanes here in the US, and the reality is that it's because more and more hurricanes have been developing over the Atlantic and Gulf and hitting us hard in the states. It's very true that any tropical destination at the same latitude as the Caribbean islands is subject to potential hurricane activity, including the east coast of Mexico, the west coast of Mexico, Central America or Hawaii – however, over the last four seasons there has been only one hurricane per year that has affected the Caribbean. So, while hurricanes in the Caribbean are a possibility, they are not a given.
One of the benefits of booking a destination wedding or honeymoon through a travel agent is the services and support they can provide during hurricane season. For example, I start watching the developing storms and keeping tabs on them for my clients. I keep them updated as to anything that could be a disruption and do all the re-booking and rerouting as necessary. We can usually get early enough warning if plans need to be altered in any way because the computer model forecasts give a pretty accurate picture of what we can expect in that area.
Another thing to consider with hurricanes is travel insurance and resort guarantees. I plan to examine both of these topics in next week's article, which can also be found on my website, www.mollyscaribbean.com.
by Molly Sumption, Caribbean Honeymoon / Sandals Expert, Seattle & Portland / subscribe to RSS feed