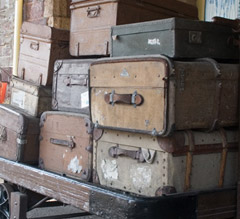 Oh, yes, we get sun here in the Pacific Northwest, and Washington and Oregon have some of the most breathtaking beach vistas on the Pacific coast. But packing for your first Caribbean Sandals experience is quite different than packing for a summer weekend on Cannon Beach.
In fact, Seattle and Portland couples ask me all the time what they should bring along, so I've prepared this short crib sheet on packing.
Pack for the Caribbean weather, primarily. Expect sun, sun, and more sun (sunblock, and plenty of it, should be on your packing list). Temperatures, depending on the time of year, average between 70 and 100 degrees, with varying humidity. Chances are, though, that this varying humidity will feel sticky to those of us accustomed to Seattle and Portland's climate, and are stickiest during the winter months in the Caribbean, but the heaviest humidity days usually lead to tropical afternoon torrential downpours (quick, warm, and refreshing to get caught in) that leave the evenings pleasant.
You'll spend most days at your Sandals resort on the beach, so bring a few bathing suits, so you have at least one change, and a light cover-up to toss on for lunch, a trip to the bar, or walking to and from your room. For women, a sarong is always a versatile choice – not only to toss on after the beach, but it can be tied as a skirt, dress, or even used as a beach blanket.
Sandals or flip flops are Caribbean footwear de rigueur. Any summery slip-on shoe, however, will be fine. If you are planning on snorkeling or boating, water shoes are nice-to-have, but not compulsory.
Sunglasses are essential. I also recommend bringing a sun hat, even though Sandals will have beach umbrellas available for shade. Bringing a small nylon purse or bag for daily necessities like your room key is also handy (if you are bringing a camera, a waterproof bag will be invaluable).
In the evenings, most guests dress up a little for dinner and resort activities. But even dress-up is "resort-casual" (close to what we consider fancy dress here in Seattle and Portland). Long peasant skirts with loose cotton blouses or sundresses are usually perfect choices for women, and for men, light khaki pants or shorts and a short sleeved collared shirt are usually fine. A wrap, light sweater, or jacket will be welcomed in the evenings, which can be breezy and cool.
If you are planning to take day trips off the resort, comfortable shoes, a water bottle, and a small day pack are a must.
My final Sandals preparing/packing tips? Pack light, easy care (no ironing on vacation, please!) clothes you will be comfortable and feel good – and always leave extra room in your bag for souvenirs of your stay.
by Molly Sumption, Caribbean Honeymoon / Sandals Expert, Seattle & Portland / subscribe to RSS feed