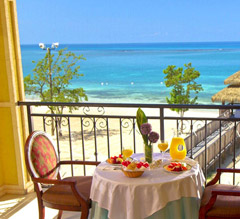 If you imagine yourself on a sugar-fine, white sand beach in a quiet, laid-back resort destination, surrounded by a crystal turquoise-blue sea then there's a lounge at Sandals Whitehouse with your name on it!Located in a lush, tropical 500 acre nature reserve on the South Coast of Jamaica, this resort boasts a two mile, virtually private beach. This resort is remote and island activities, with a few exceptions, are a minimum of 90 minutes away. As a Seattle and Portland travel agent I would not recommend Whitehouse to those who want to be busy with tours away from the resort.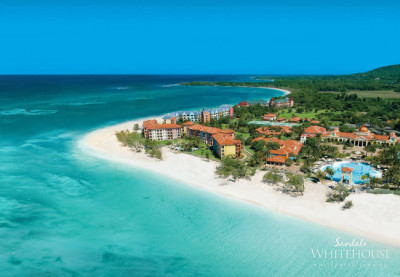 At Whitehouse every room is on the beach with a water view. There are three Villages at the resort.
The Italian Village, located closest to the center of the resort. TIP: This resort, while quite spread out, is easy for physically challenged guests to navigate. Physically challenged rooms/suites are designated on the first floor of the Italian Village, closest to the center of the resort. Walkers and wheelchairs are available at no additional charge. Chauffeured golf carts are available for long distances.
The Dutch Village, next in line, surrounds a small beachfront pool in its courtyard and a Juice Bar.
The French Village is furthest from the center of the resort.Located here is delightful outdoor dining at Bluefield's Beach Club, specializing in Jamaican and grilled specialties. There is a courtyard pool here as well, a bar and grill.  TIP: During the day a party atmosphere reigns at the courtyard pool and can be noisy in the surrounding rooms. If it's peace and quiet you are looking for, another Village would be preferable.
Restaurant favorites include:
Neptunes, seafood dining on the beach. TIP:Local lobster is not available every month of the year but when it is available order more than one tail, just because you can!
Giuseppe's for gourmet, brick-oven pizzas and pasta. TIP: Order a pizza to go during the day to enjoy poolside under the palms.
Bluefields Beach Club for the best beachfront dining and traditional Jamaican favorites. TIP: The beef, chicken or vegetable Jamaican Patties are to die for!
Eleanors for a special night out offers an international menu with White Glove Service and hot,a la carte breakfast dining in the morning. TIP: My favorite traditional Jamaican breakfast, Akee and Saltfish with Johnny Cakes. Hard to explain exactly what Akee is to the uninitiated but it's a "must try"!
Cafe de Paris for a selection of French pastries throughout the day and evening.
TIP:Â  The gorgeous bright blue peacocks at Whitehouse fly to the roof edge at sunset every evening to roost. Not a good idea to sit under a roosting peacock!
by Molly Sumption, Caribbean Honeymoon / Sandals Expert, Seattle & Portland / subscribe to RSS feed