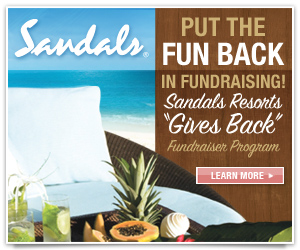 We know how important fundraising is to the success of your association, school, or club, and we want to offer you a fun, easy fundraiser program that takes little effort, but gives a lot of reward!
From corporate runs and benefit dinners, to silent auctions and bake sales, how do you choose the fundraiser that is right for you and your organization? Introducing the Sandals and Beaches Resorts Gives-Back Fundraiser Program!
This is a creative fundraising campaign where everyone can get involved and fundraising dollars can add up quickly and easily. The more Sandals or Beaches vacation packages your organization books through Molly's Caribbean, the more money that is raised towards your fundraising goals!
Contact Molly Sumption at Molly's Caribbean for more information on how the program works, and how to register your organization.
by Molly Sumption, Caribbean Honeymoon / Sandals Expert, Seattle & Portland / subscribe to RSS feed