The Antigua Tourism Board boasts of 365 beaches, one for every day of the year!
On my most recent trip to Sandals Grande AntiguaI stayed on the Mediterranean Village side of the resort. A sampler of my favorite room categories include:
The Mediterranean Club Level Suite (room code VS) includes the exclusive amenities and luxuries of Club Sandals concierge service. My room, located on the 2nd floor, had a panoramic view of the ocean but it was partially obstructed by trees. The higher up in the Mediterranean Village, the better the view.
The Caribbean Deluxe Rooms (room code HD), in the lush Caribbean Grove, are located in charming one-story West Indian cottages, an easy stroll to the beach.
The very private Caribbean Honeymoon Butler Rondoval with Private Pool Sanctuary (room code RP) can't be beat for the luxury that honeymooners covet. There are Caribbean Beachfront Butler Rondovals (room code RD) as well but they don't have private pools.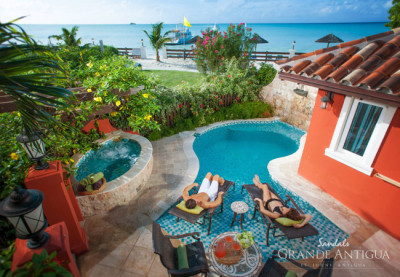 There's a nice long sandy beach at Dickenson Bay where Sandals Antigua is located, but many beach vendors – prepare to be bothered. There's also a good variety of specialty restaurants in the evening. For a special treat, rent a cabana at the expansive Mediterranean Village pool reasonably priced with private food and beverage service.
Sandals Antigua is well situated for island-hopping to St Lucia, Barbados and Grenada. A very pleasant surprise for me on this journey to multiple islands was Liat Air. Historically this small, local airline has not received the best reviews. On this trip however, I found the aircraft to be clean, updated, the personnel to be friendly and for the most part the schedules to be on time. No hesitation from me in suggesting Liat Air for island-hopping today.
by Molly Sumption, Caribbean Honeymoon / Sandals Expert, Seattle & Portland / subscribe to RSS feed