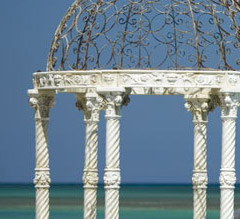 With the average wedding ringing in at over $10,000, I am seeing more and more Seattle and Portland brides and grooms-to-be considering having destination weddings for good reasons. Destination weddings are a great way to make any ceremony memorable, and in a tough economy, the best way to maximize your wedding budget. Sounds counter intuitive?
From eliminating small expenditures (having your wedding in an exotic and beautiful locale instantly opens up those couple of hundred bucks you'd set aside for decorations) to easing the larger ones (combining a wedding with the honeymoon, for instance, or getting package discounts planning group air travel and lodging), destination weddings also eradicate the other huge cost of throwing your dream wedding: stress. Although planning a destination wedding sounds overwhelming, it can be as easy as booking a vacation.
I've been helping Portland and Seattle couples navigate the overwhelming amount of destination wedding information and book their ideal trips for over 20 years. The question, of course, I hear the most is "Where have couples been the happiest with their weddings?" The answer is, overwhelmingly, at the Sandals resorts across the Caribbean.
A Sandals "Weddingmoon" allows you not only to take advantage of all the Sandals has to offer: the all-inclusive dining, drinking (yes, really!), and recreation. It also includes just about everything else a couple needs to get married and actually enjoy their own wedding. At Sandals, you get your very own personal wedding consultant, the wedding cake, the officiant, a reception, and even the wedding bouquet and boutonniere. As my client (who had a Sandals Antigua Destination Wedding) said: "I couldn't have asked for anything more, except maybe a longer honeymoon!"
If you are looking for a way to get the absolute most from a modest wedding budget, get in contact. Just like in love, there's no reason to settle for second best.
by Molly Sumption, Caribbean Honeymoon / Sandals Expert, Seattle & Portland / subscribe to RSS feed