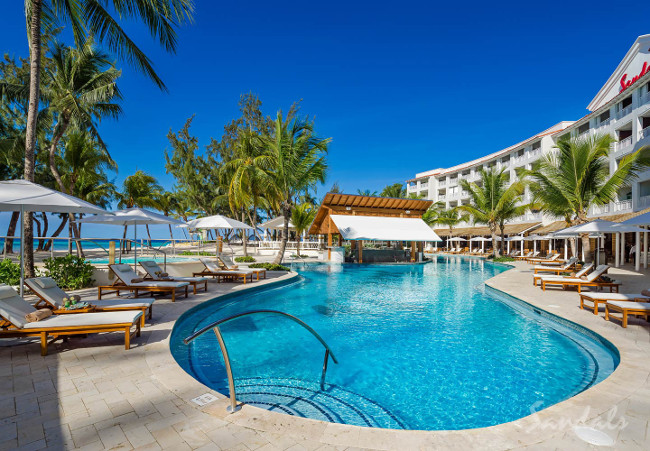 General George Washington, with his half brother, Lawrence Washington, sailed from the Potomac River, through the Chesapeake, on the brigantine the "Success" on a rough non-stop journey to Barbados, arriving November 2, 1751. As a Seattle and Portland travel agent I appreciate that Barbados provides a backdrop rich in history. Inhabited by Arawak and Carib indigenous peoples at the time of European colonization of the Americas in the 16th century, the island was an English colony from 1625 until 1966. Barbados eventually had one of the world's biggest sugar industries after starting sugar cane cultivation in 1640.
Sandals Barbados, the most recent addition to the Sandals and Beaches group of Caribbean All-Inclusive Resorts, is only 15 minutes from the airport for an easy transfer. The resort itself is compact and the beach is small. There is a good sized beachfront pool with a swim-up pool bar and a quieter interior pool with charming red-striped cabanas. The star of the resort is the Crystal Lagoon, situated in the interior of the resort that offers rooms and suites with swim-up patios and overlooking balconies.
The Crystal Lagoon Swim-Up Club Level Luxury Room with Patio Tranquility Soaking Tub (Room Code SLX).
On the beachfront side of the resort, the Beachfront Club Level Suite with Balcony Tranquility Soaking Tub (Room Code OBT).
A new restaurant in the Sandals All-Inclusive group debuted at Sandals Barbados: Bombay Club, specializing in Indian Cuisine.
It is joined by the ever popular Butch's Chop House, famous for its Lobster Mac & Cheese!
Add the Merry Monkey English Pub and Sandals Barbados boasts a total of 11 restaurants for a variety of dining options.
BARBADOS RUM PUNCH
1 of sour = 1 part West Indian lime juice
2 of sweet = 2 parts simple syrup
3 of strong = 3 parts aged Barbadian Rum
4 of weak = 4 part water or chipped ice
Add a dash of bitters
by Molly Sumption, Caribbean Honeymoon / Sandals Expert, Seattle & Portland / subscribe to RSS feed