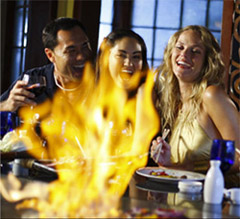 Sandals requires a credit (not debit) card at check-in.  Be sure you have a minimum of $400-500 available on your card. If you charge incidentals to your room, your card will be charged when you check-out.
It's a good idea to reserve spa treatments in advance of your arrival.  Molly's Caribbean will be happy to book treatments on your behalf before you leave. A massage at the beginning of your stay will put you on the fast track to total relaxation.
When you arrive at the airport and clear customs & Immigration, head for the Sandals/Beaches Airport Desk. Sandals will check you in and take you to your van for your transfer to the resort.
Tipping is required outside of the resorts, but not inside. Tips are suggested for airport porters ($1 per bag in Jamaica) and van drivers (a minimum of $2 per bag).
When you arrive at the resort, call immediately for dinner reservations at any restaurants that require reservations. There can be a 2-3 day wait for dinner reservations.  If you can't obtain a reservation, advise the Maitre-d you are willing to stand by for a table and wait in the bar.  Many times people do not show up for the reservations they have confirmed.
"Casual Elegance" is required in the evenings for dinner at some restaurants. This translates to long plants, collared shirts and closed shoes for men. Long pants, collared shirts, sundresses or caftans for women. Sandals are OK for women. No shorts, tank-tops or swimsuits in the restaurants that require Casual Elegance.
You may order anything at the restaurants in any quantity you wish. You can even dine on 5 desserts!
If you leave the resorts, you may find the vendors to be very aggressive. You may be offered Marijuana. Don't buy it – it's illegal – and penalties can be severe.
Tours can be booked at the Tour Desk at each Sandals/Beaches resort or in Jamaica pre-booked through Molly's Caribbean. There is a list of sample tours located on the Sandals/Beaches websites, by resort, with prices.
Most shops outside of the resorts accept major credit cards. ATMs may not be as plentiful or provide as easy access as in the US. Travelers Checks may be cashed at the resort, but you will receive local currency in exchange which can be a hassle. US dollars can be exchanged at the Front Desk for local currency, however when you bargain for souvenirs at the Craft Villages, you will get more mileage out of US $1 bills. Overall, US dollars and credit cards are the best way to go. Use the in-room safe to lock up your cash and credit cards.
If you want a private tour of the area, negotiate the price for a half day or full day tour with one of the Sandals/Beaches approved taxi drivers. Ask another couple to share the expense.
Long distance calls are very expensive in the Caribbean. Calling cards cannot be used in the resort. Find out if your mobile service allows for Caribbean calls and at what cost.
You will be taken to the airport to arrive 2 hours before departure. That's the best time to purchase duty free liquor to take home. However, you may only carry it on board as far as your first stop in the US – then it must go as checked, in baggage.
by Molly Sumption, Caribbean Honeymoon / Sandals Expert, Seattle & Portland / subscribe to RSS feed