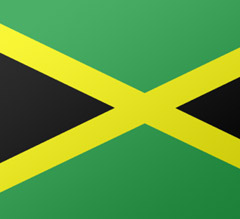 The beaches in Jamaica are truly spectacular, from secluded private coves to Negril's world-renowned seven-mile stretch of powdery white sand, all looking out onto the ultra-clear, turquoise waters of the Caribbean.
Background
The island – discovered by Christopher Columbus in 1494 – was settled by the Spanish early in the 16th century. England seized the island in 1655 and established a plantation economy based on sugar, cocoa, and coffee. The abolition of slavery in 1834 freed a quarter million slaves, many of whom became small farmers. Jamaica gradually obtained increasing independence from Britain. In 1958 it joined other British Caribbean colonies in forming the Federation of the West Indies. Jamaica gained full independence when it withdrew from the Federation in 1962.
Areas Of Interest
Montego Bay
Stroll Montego Bay's Gloucester Road and get a sense of Jamaica's vibrant present as well as a picture of her colonial past. With quaint gingerbread architecture merging seamlessly with more modern structures, Montego Bay, Jamaica's second-largest city, allows visitors to dive into the heart of a bustling, Caribbean town. Pause to marvel at the Georgian buildings or linger the afternoon away in a crafts market. Vivid colors, activity and laughter abound everywhere you turn in Montego Bay inviting you to soak in the warmth and join in the fun.
Negril
A spot so enamored with nature's bounty that its tallest building cannot reach higher than the ever-present palm trees, Negril embodies the ultimate relaxed lifestyle. Imagine seven miles of unimaginably silky white sand beach and five miles of cliffs dotted with eccentric watering holes and eating establishments. Envision all of this overlooking some of the most marvelous turquoise water in creation. Add in some of the most spectacular sunsets you're ever likely to witness, where the sun sinks into the sea from this westernmost tip of Jamaica in a blaze of fiery finery. And you'll soon see why Negril is a place you won't soon forget.
Ocho Rios
Located roughly in the center of Jamaica's North Coast, Ocho Rios lays claim to an incredible variety of natural and manmade bounty. Characterized by luxuriant greenery, mountains that soar down to meet stunning beaches, plus the world-renowned, Dunn's River Falls, this town virtually pulsates with an energy all its own. It even boasts Fern Gully, a winding five-mile shallow canyon carved out by a long-dried-up river, that now hosts over 500 species of ferns and some tropical flora that you would be hard-pressed to find outside of a rainforest. Having explored the majesty of Mother Nature, don't forget to take in all the hustle and bustle of Ocho Rios' crafts market, duty-free shops and local color.
Whitehouse
Do you enjoy the thrill of being the first person to leave your footprints in the sand? If so, then Whitehouse is the destination you have always dreamt of. On Jamaica's largely undeveloped South Coast, Whitehouse showcases gorgeous scenery in a setting undisturbed by crowds. Rolling countryside and endless vistas of aquamarine sea stretching out beyond the horizon soothe the soul and let you know that your eyes are gazing at a long-kept secret. Whitehouse offers a window into a side of Jamaica seldom seen by visitors to the island, a pure vision of beauty and perfection that will stay with you forever.
Interesting Trivia
Jamaica was the first English Colony to have a post office.
The Manchester Golf Club in Jamaica, established in 1868, is the oldest in the western hemisphere!.
Jamaica was the first country in the Western world to construct a railway, even before the United States! This was only 18 years after Britain!
Sugar cane, originally grown in Southeast Asia, was brought by Christopher Columbus on his second voyage to the new world. It is mostly grown on flat lands and takes 11-18 months from planting to reaping.
Pimento, also known as allspice, is the key ingredient in jerk sauce. It was discovered in Jamaica by Spanish explorers in 1509 and its name originates from the Spanish word "pimienta" (pepper or peppercorn). Reaping is possible 3-5 years after planting.
Ackee, came to Jamaica from West Africa during the 18th century. Its scientific name, blighia sapida, named after Captain Bligh, who took the plant to Kew Botanical Gardens, South London for research in 1793. You never force open an ackee pod as it is poisonous. Let it open naturally. Planting to reaping takes 4 years.
Breadfruit was introduced to Jamaica from its native Tahiti in 1793 by Captain William Bligh to provide food for slaves to alleviate periods of famine. The time from planting to reaping is 5 years.

for more information about Jamaica, please visit the Jamaica Tourist Board.
by Molly Sumption, Caribbean Honeymoon / Sandals Expert, Seattle & Portland / subscribe to RSS feed