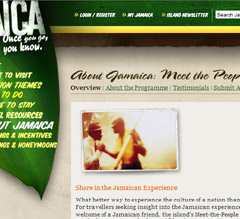 When it comes to hospitality, Jamaica really means it. Jamaicans are as warm as the turquoise Caribbean Sea, and since 1968, the Jamaican Tourist Board has paired island visitors with island residents for a true taste of the Jamaica.
Jamaica's Meet-The-People program is a free program where you can arrange to spend time with Jamaicans that share your interests or profession to get beyond the resorts and into the spirit of the country. All you have to do is contact the tourism board once you have confirmed your travel dates [visitjamaica.com] and the board will match you with one of the 700 Jamaicans that participate in the program (and it's not just for adults! There are many Jamaican families who are registered with the program and have children who would love to meet your kids).
Our family has personally had two wonderful experiences with the Meet-The-People program. My brother-in-law, a firefighting professional, was "adopted" by a fire chief in Montego Bay and got to spend a few days seeing the ins-and-outs of Jamaican emergency services, as well as meet plenty of new friends. My son and daughter-in-law spent 2 days sightseeing and eating home cooked food prepared by an Ocho Rios activist and owner of a local bed and breakfast. They all agree it's truly a spectacular way to see more of the island and go beyond the resort or arranged tours. All you need is a sense of curiosity and adventure and the Jamaican Tour Board will handle the rest.
by Molly Sumption, Caribbean Honeymoon / Sandals Expert, Seattle & Portland / subscribe to RSS feed