Michael & Jessica
Jessica and I want to express our heartfelt gratitude for your exceptional customer service. The vacations we've arranged through your assistance over the past six years have created some of our most cherished memories. Thank you immensely. Moreover, we sincerely appreciate the generous offer of the Starbucks card. As a medical professional, Jessica, like many others, relies on java to keep her going, so your thoughtful gesture means a lot to us.
With warm regards, Michael
---
Jen & Scot
My husband and I just celebrated our 10 year wedding anniversary. We found Molly's Caribbean at the Spring Wedding show in 2011. Molly is very personable and we feel enjoys finding the right vacation for us and her customers. Over the past 10 years Molly has helped plan 5 vacations for us, including our anniversary trip during a pandemic! She provides white glove support from the initial planning through your entire stay at the resort. She is extremely through, understands resort and island requirements, which reduces our stress while traveling. Leading up to our May 2021 travels, Molly helped identify a local COVID testing site, Bahama's Health Visa travel requirements, changed our resort and airfare two weeks before our vacation because Sandals didn't open the resort we were scheduled for, and shared recent customer travel experiences that helped us navigate the pandemic international travel smoothly. We will ONLY use Molly. She advocates for us, finds luxurious vacations and experiences that fit our budget and preferences. We look forward to planning our next vacation with her knowing we will be heard, receive clear communication with no gimmicks or up selling, detailed travel itineraries, timely answers to our many questions that result in a relaxing travel experience for us. Thank you for your years of reliability, strategy, sharing experience stories, advocating on our behalf and planning the most amazing vacations.
---
Kelly & Julia
When we scheduled our Destination Wedding at Sandals Royal Caribbean we were so worried about COVID interfering with our dream wedding plans. Molly was amazing and helped keep us up to date on any changes, coordinate everything with the resort and keep us in touch with the wedding planning team. Even with a few bumps in the road, Molly helped keep things on track and we made it for our special day! It was everything we hoped for.
-Julia & Kelly
---
Miles & Ashley
Molly,
Thank you for checking in. It was wonderful and so beautiful.  As to my gluten-free dietary requirements, Sandals Negril certainly made it easy for me to eat anything I wanted which was very nice. We didn't sign up for anything or book another trip. But we are hoping to be able to go back soon!
Ashley Damitz
---
Sean & Julia
Hi Molly,
First off, WOW what an amazing honeymoon and experience in general at Sandals Royal Bahamian! Both Julia and I am extremely grateful for the experience. Everything went exactly how we had hoped it would.
You really nailed what we were hoping for. Our room was right on the water, it was on the laid back side and quiet. We had our candle light dinner, enjoyed all the amenities and even got to snorkel out on the island. I can't speak more highly of your attention to detail or your ability to understand and deliver on your service. From having to deal with re booking, to making this experience something we will both remember for our entire lives, you're really the best I've worked with. So, thank you for an amazing service!
We are already looking at booking a trip to St. Lucia in the next 24 months and we will 100% be making the travel arrangements through you. Thank you again and we are looking forward to our next trip!
Sean and Julia Kuffler
---
Bre & Geoff
Molly,
Both Geoff and I wanted to extend a huge thank you to you!! We can't thank you enough for all of your help and patience while we organized and planned the wedding and honeymoon. Everything turned out so beautiful! – We can't stop talking about our honeymoon the Sandals Royal Bahamian was so amazing – I'm sure you will hear from Geoff and I in the future, we will definitely be trying out different sandals for our next vacations!
Bre & Geoff
---
Daniel & Megan
Thank you Molly.
Our trip was amazing and exceeded our expectations! It was great that the manager took such quick action to make sure our needs were met and that we left with no issues. We will definitely be recommending you to our honeymooner friends. We have already recommended Sandals Ochi to many people!
Daniel & Megan Seashore
---
Howard & Darbyann
Molly-
Over the past years your expertise, patience, understanding and attention to details has provided us with a number of travels we will never forget. There must be a number of ways to say Thank You. Your travel information and friendship is a treasure we hold and share with family and friends at every opportunity.
Again,THANK YOU so much for all you continue to do for us.
-Howard & Darbyann
---
Harv & Lois
Dear Molly,
We want to share with you the rather lengthy review we posted on TripAdvisor today about our trip to Sandals Montego Bay. Believe us, we cut back on the size, even though it meant not getting in as many of the very positive things we wanted to say. It's still probably much longer than TA would like, but too bad! Rest assured, all the areas asking for good, bad, etc., were marked EXCELLENT!
We wanted it known how great our experience was and the wonderful people we encountered, but certainly wanted to mention some by name specifically. And there was one more that didn't get mentioned because, well, because we're kinda old and couldn't remember her name. But she was the lady from whom Lois got a massage the day of our anniversary, December 19th, and she did a phenomenal job!
(BEGIN REVIEW) Outstanding experience! Our sixth Sandals over a 15-year period, fourth in the last 5 years. And this was the best yet! We believe this Sandals exemplifies all that we expect from their resorts and staff–and even what it means to go above those expectations!
The resort was undergoing construction (which our travel agent had made us aware of) around the lobby area and on an existing building and its grounds, so it was a bit noisy at times, and a bit awkward getting to a couple of locations, but the staff and workmen did their very best to prevent any inconvenience. Part of that construction created swim up lagoon butler rooms at that building, which were worth the inconvenience!
This was our third visit to different Sandals properties in Jamaica, and it greatly reinforced one of our significant reasons for wanting to go back–the people of Jamaica are the friendliest in the Caribbean! The entire staff were attentive and very responsive, not just taking care of us and our wishes, but making us feel at home.
We really liked our room, which was very spacious and in excellent condition, with an amazing bathroom sporting a huge walk-in shower with two shower heads. We had an awesome young lady, Shandel, making sure everything was clean and neat, plus leaving us special arrangements of towels and flowers daily.
The bulk of our meals were at Bayside, and they were all outstanding experiences. Great buffets with a large variety of food, cooked very well and very tasty. We had some excellent food at Cricketeers Pub, but also at Cucina Romana (both breakfast and dinner) and Oleander (dinner). If you order a steak at Cucina Romana, be prepared to overeat! It's huge and delicious! Even though we considered The Mariner a "fast food" kind of place, it proved to have really good food, and not just burgers and pizza.
It turned out almost every night we capped off our meal with a visit to Cafe de Paris. The huge selection of pastries and crepes coupled with a Cafe Jamaica (coffee) were all just too good to pass up. Of course they also had an amazing selection of ice cream, with some of the flavors changing daily!
Of course, food and beverages are included at Sandals, but some of the staff we interacted with are worth mentioning because they stood out as going above and beyond normal expectations and made us feel very special. A supervisor Melissea, bartenders Ceylon and Samantha (who was only two weeks into her training, and who we hope will be permanent staff when we return!), wait staff Gerdeen and Jahmelia (also still in training and always brought smiles to our faces), and chefs Dionne and Dwight, all need to be mentioned as special people in their jobs.
We had a great time with Carla in Sales from our third day when she approached us and remembered our names from the first day. She worked very patiently with us as we planned our next return Sandals trip, and provided many fun conversations. We had great times every time we were able to get together with her!
We had several occasions to speak with Naseema in Club Sandals/Front Desk/Concierge Lounge. She was not just very professional, but a treat to talk with. We hope she returns to Sandals after graduating college.
Satchwell was a ball of tireless energy throughout the resort and at check-in and check-out. And while handling several guests simultaneously, he maintained a great, positive attitude and displayed a glowing smile. Â What a great way for guests to be greeted!
Of course, any Sandals would not be complete without an array of young folks providing the daily games and activities for guests, and showing off their awesome personal skills in nightly entertainment venues. We were fortunate enough to get to know Candice, Scion and Ramone of that great group, and loved their attitudes as well as their talents. And Scion not only displays physical talents, but is a terrific artist. We got to see several of his works…wow! (Note: he does sell his artwork, and we will be purchasing some on our next trip there in 2018!)
Special compliments to…
Carl Beviere, the General Manager, who just happened to greet us as we were wandering around our second day there and treated us to a tour of the areas under construction, explaining what they would look like on completion. We chatted several more times over coffee and a couple of meals, with updates on construction and just fun chats.
Dawn Smith, the Resort Manager, who we met as Carl was giving the first tour. Dawn combined top elements of professionalism and charm with a personality that made us feel like we were part of her family. We loved being around her and she was great to us our entire visit.
Nicky Feanny, the Project Manager, who treated us like old friends from our first encounter.  He was a treat to talk with, and, as with Carl and Dawn, was always willing to discuss the construction, or just general topics.
Carl and Dawn were doing all they could to ensure Sandals Montego Bay was going to be the crown jewel in the Sandals family when all the construction is finished…as it should be since it was the first! But in the midst of all their responsibilities doing that, they managed to make us feel like not just like very special guests, but family…to be welcomed back again and again! What a treat! The other thing that was clearly evident with both of them is that they took care of all their employees and were well respected in return. The old adage, "if you take care of your people, your people will take care of your business" definitely applies here!
Sandals Montego Bay is a great location that allows several options for off-resort fun. To begin with, it's about a 5-minute ride from the airport. (Yes, the departing planes fly over the resort, but instead of it being a bad thing, the staff – and yes, the guests – would wave goodbye! No, the folks in the planes couldn't see them, but we knew shortly after our plane lifted from the tarmac, all our new-found friends were waving so long and saying "soon come back…yah mon!") The town of Montego Bay is about a 15-minute taxi ride and allows for shopping, eating or drinking options, if you are so inclined. There are several off-resort excursions available (through Island Routes in the lobby) that mean a 30- to 90-minute bus/shuttle ride. Zip lines, dolphins, forest bobsled, tubing, kayaking, Luminous Lagoon are all fun, although all cost extra. And from the resort there are catamaran trips, scuba trips and snorkeling trips–all free. You can also ride a Sandals shuttle to Sandals Royal Caribbean (worth the trip) and Sandals Carlyle (probably NOT worth the trip, but a great place to stay the night before your departure if you are coming from Ocho or SoCo (formerly Whitehouse) as those are longer drives!).
There is a resort store, and outside vendors are on property 3 days a week with a wide assortment of local crafts and clothing. They have some pretty awesome stuff. One of the pluses of this resort is that the beach is private so there are no vendors hitting on guests. Plenty of shady spots and plenty of sunny areas along the beach.
The "main" pool is adjacent to Bayside restaurant and not particularly big. The only pool/swim up bar (currently) is closer to the middle of the resort property, and it is not a large pool.  As we did at Whitehouse 10 years prior, we enjoyed a candlelight dinner on one of the piers…we were attended to very ably by Jermaine, and the meal was delicious!
To be honest, some of the rooms here are pretty small, so a recommendation is that anyone considering staying here talk to a travel agent who has actually been to the resort and is familiar with all the rooms. Our travel agent, Molly Sumption, Molly's Caribbean, in Seattle WA, is perfect for that help!
-Harv & Lois
---
Danny & Kelsey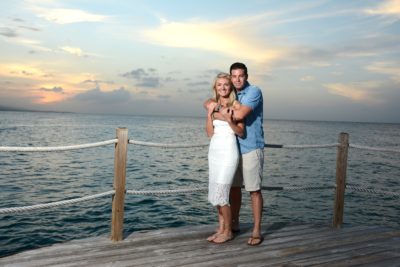 Dear Molly,
Our trip to Sandals Ochi was great! It was everything we imagined! Thank you so much for helping us plan this trip! Kelsey and I enjoyed every part of it.  Keep us on that email list. That won't be our only vacation through you!
God Bless,
-Danny & Kelsey
---
Dana & Jason
Just want to say a  BIG THANK YOU for planning our trip to Jamaica and Jewel Dunns River. It was FANTASTIC!! 
The resort was beautiful.  The service was excellent. We made great memories. What's even better is Jason said, "Where are we going next year?" SAY WHAT???  I was so happy to hear those words!  Looking forward to working with you again Molly. I will always recommend you to anyone looking to make vacation plans.
-Dana Moreland
---
Nic & Natasha
Molly is amazing. My husband and I work opposite schedules and she was so flexible when it came to planning our Sandals honeymoon. I would mostly send email because I get off work too late to call, and she would respond usually by the next day. There was no stress on our part. We told here where we wanted to go and what we wanted to do, and she booked it. At one point I panicked because I got an email from our resort saying our early check-in was unsuccessful (which would have disqualified us for a special honeymooners offer), and she completely took care of it. She knows all the destinations personally, got us a great room, and gave us really great advice before hand that we would not have known until after we arrived. With all the stress of planning a wedding by myself, it was beyond a blessing to have someone so knowledgeable just take care of everything. I honestly thought travel agents were becoming out-dated because of ease of access to internet now, but Molly's expertise cannot be matched by anything you plan yourself!
-Nic & Natasha
---
Jordan & Danielle
Molly-
Thank you so much for checking in. Our trip to Sandals Ochi was absolutely incredible!! We had an amazing time, made some great friends and definitely plan to be back 🙂
The only hiccup we had was a late flight out of MBJ, which almost caused us to miss our flight out of Charlotte. Fortunately, we made it just in the nick of time due to a delay on that flight as well, but when we got home 2 out of our 3 checked bags were missing. The airline has been a bit of a nightmare to deal with so I am not confident that we will fly with American again, but we did get our bags finally this afternoon so we are relieved to say the least!
Thank you so much for your help with this process. You have been lovely to work with and we will definitely be in contact for future vacations! We actually talked about doing a family trip to Beaches next 🙂
Thanks again!
Jordan & Danielle Lenz
---
Matt & Michelle
Molly –
Everything was amazing at Sandals Regency La Toc!  We had the best time! We did not sign up for the repeat guest program, but we enjoyed working with you so much and will definitely pass anyone we hear of planning a vacation on to you.  I really appreciate you taking care of the sunset catamaran cruise as well.  We went and absolutely loved it. Thanks again!
Matt
---
Luke & Hailey
Molly-
We are back into reality now with today being our first day back at work, and I can't say THANK YOU loud enough! 
We had such an amazing time at Sandals Ochi, and thanks to all of your recommendations and info, the best travel experience was had!
We want to go back to a Sandals and want to bring our families to show off how amazing things are! We will be returning at some point, and I even held out from the Loyalty travel desk because I trust that you can get us another great deal, and give us the best customer service. 
Thanks again,
Luke & Hailey
---
Sarah & Mike
Molly-
Mike and I just returned home from a fabulous honeymoon at Sandals Royal Bahamian! The staff there treated us fabulously from the start. We loved the little touches you and the concierge added with the breakfast in bed and the treats delivered to our room with champagne on ice! The restaurants were great, we loved Baccarat and Gordon's! Oh and the garlic soup at The Crystal Room was amazing! And the bartenders at the pub were fantastic, really went above and beyond. The private island was beyond relaxing. The pools and beaches were great. And it only rained on us on the last day! Mostly, we just loved talking to everyone there, the staff and the guests. It was a wonderful trip! Thank you so much for making everything so easy for us. It was a totally stress free vacation thanks to you and Sandals! We appreciate you so much. Sincerely,
Sarah and Mike Trenholme
---
Rebecca and Bryan
Molly,
We cannot thank you enough for helping us with our Weddingmoon at Sandals Whitehouse!! We had SUCH a wonderful time – and I think we speak for EVERYONE in our party when we say this! The resort was beautiful, VERY clean, and on an incredible stretch of beachfront! The food was delicious, the staff MORE than friendly and helpful, and the wedding was beyond what we had hoped for! Overall, this was an incredible experience and we truly want to thank you for helping us all along the way! You made this process painless and fluid. We will definitely be in touch for a vacation in the future!!
Sincerely,
Rebecca & Bryan Fry
---
Hisham and Anna
Dear Molly,
Thank you so much for helping us plan our honeymoon to Sandals Whitehouse European Village and Spa in Jamaica. We had a fabulous time — we almost didn't want to come home! We were in awe of how beautiful the resort was, how courteous (and fun!) the staff members were, and how delicous the meals, desserts, and beverages were. We loved every aspect of our vacation and can't wait to go back!
Thank you also for hooking us up with the honeymoon extras (i.e., breakfast in bed, champagne and flower petals, etc) as well as the card and the cheese plate you had delivered to our room the very first day. It was so thoughtful and exactly what we needed to refuel after a long journey. Everything went off without a hitch, our honeymoon was perfect, and we have you to thank for helping to make it so.
Please enjoy the pictures! We look forward to working with you again,
Hisham and Anna Othman
---
Adrianne Lewis
Molly,
Thank you soooo much for your help in making our Honeymoon the best ever! The suggestions you gave us on selecting the Sandals Antigua location, and advice you offered on what types of offers and amenities would fit our needs was more than helpful. We didn't want to leave at the end of the week!! Thanks for answering all of our questions during our travel prep, even the obscure and off the wall ones =)
Thanks again,
Adrianne and Justin
---
Mike and Toni
Good morning Molly,
I have been meaning to write you in regards to our Sandals Grande St Lucian vacation. We wanted to thank you so much for all your help in making our honeymoon more perfect than we could imagine. From the time we got on the plane until we got dropped back off at the airport, we were treated like royalty. Literally, every need or desire is anticipated by the Sandals staff. We even had surprise drinks and snacks delivered to our room a couple times from Kristol! Every person there made us feel welcome and comfortable. Our room was amazing and we enjoyed a lot of our time in the privacy of our lagoon pool, as the main pool was pretty crowded all the time. Sandals definitely has the all-inclusive couples retreat down to a science of romance and relaxation. The add-on Romance package was definitely worth every bit. It just gave more opportunity for us to spend quality time alone. The private photo shoot was so much fun, our photographer, Lance, had us laughing the entire time. And our pictures came out so beautifully. All-in-all we had an incredible time and will be returning to Sandals the next time we are looking for an island getaway. We would recommend going to anyone!
We would also like to sign up for the Sandals Select Guest program as well. Thank you for taking care of absolutely everything we wished for and making our honeymoon truly the most amazing experience of our lives!
Mike and Toni Davis
---
Heather Keel
Molly,
I just wanted to send you a message thanking you for helping with planning our trip to Whitehouse. We had the most amazing trip ever. Nothing could have made it any better. The resort was absolutely perfect, we were treated like royalty from the minute we stepped off of the bus at the resort, which was so wonderful for this special time in our lives. We talked with many guests who frequent Sandals Whitehouse and guests who have visited other Sandals on the island of Jamaica and prefer Whitehouse over the others. The surroundings and ambiance were just what we were looking for, the weather was perfect. We honestly could not come up with a single complaint, and will definitely go back some day 🙂
The wedding day was everything we wanted and more… we had so much fun and could not imagine having done anything differently.
As requested I will mail a wedding photo to you.
Thank you again so much for guiding us to Whitehouse.
Heather (and Joe)
---
Jeremy Beck
Hey Molly,
As promised, here are a few pictures we took at the Emerald Bay resort from our honeymoon earlier this month. I also wanted to take a minute to thank you for all of your help setting up our trip. Even though you are in a different state, you made the process incredibly easy and were there to answer every little question we came up with in the days leading up to it. If only getting back through customs was as smooth as booking with you!
We will definitely be booking any future Sandals trips through you and will recommend you to our friends. We also signed up with the Sandals Select program as further incentive to come back. Let me know if you have any questions about the resort itself since you haven't gotten a chance to go (yet!). We really enjoyed the resort as it was very laid back and the beaches around the resort were gorgeous. We kayaked, went scuba diving, and took a private taxi tour around most of Exuma while we were there, so there was plenty to do!
Hope all is well with you, and thanks again.
Sincerely,
Jeremy Beck
---
Laurie Lindblad
Grande St Lucian Honeymoon
Hi Molly, We had a great trip! Definitely a higher level of pampering and service than we're used to, and it's just what we needed. Our room had a view of the Atlantic, which we weren't expecting, so that was a bonus. The resort was beautiful, and the level of detail that went into all that they did was amazing; from wedding planning to beach b-b-q's to the cocktail welcome – nothing was overlooked. The service was truly amazing, and staff were by far some of the friendliest we've add. It's obvious the hotel works hard on training and professionalism and customer service. And the food was excellent as well. I've attached 3 photos: the hotel from Pigeon Island; the two of us on the way back to the airport; and, the highlight for me: the CHOCOLATE BUFFET! Thank you for your help.
---
Jake and Kara
Hi Molly, We wanted to thank you very very much for helping us plan our trip. You definitely helped take alot of stress off our shoulders, so again we thank you! Ocho Rios was ABSOLUTELY GORGEOUS! We could not have asked for a more perfect place to spend our honeymoon. Everyone there was so nice and made us feel very welcome. The food was great too! We are not going to lie, being able to eat and drink whenever you want, and not having to pull out a wallet made it extra hard to come back to the "real world" at home. We would love for you to be of future assistance when we plan more trips. We know we will be going back to another sandals resort. Just need to pick the time, and place! Thank you again for everything and we have attached some photos of our trip. Enjoy!
---
Katie and Rob
Hi Molly, I wanted to say a big thank you for all of your help with planning and arranging our honeymoon! We recently returned from Sandals Grande Antigua (picture attached!) and had the best time! We were upgraded to a bigger room (which I assume you had something to do with!) and the staff could not have been friendlier or more accommodating. We took advantage of the water sports and went kayaking and snorkeling, but otherwise lounged by the pool and enjoyed being lazy!
We definitely got our money's worth with the amount of food and drinks we consumed! The resort was beautiful (as was the weather!) and we really appreciate all you did to make the travel and hotel arrangements seamless. Thank You!
---
Justin & Jen
Sandals Negril Destination Wedding
Molly, Justin and I want to tell you what an amazing time we had at Sandals Negril. The people, the resort, the food, the entertainment, it was everything we had ever dreamed of and more for our wedding. Before we even landed back in Seattle we were already thinking of our next Sandals trip. We appreciate all your help with the planning and will be using your services most likely for the rest of our life! Attached are some of the photos from our special day. Thanks again, and we look forward to working with you again real soon.
---
Vicki and Jeff
Sandals Montego Bay Destination Wedding
Our decision to have a Weddingmoon at Sandals in Montego Bay Jamaica was one of the best decisions we have ever made. With the expertise and guidance of Molly Sumption planning took almost no time at all. We simply chose the resort, invited our guests, and then we just had to sit back and wait for our special day to arrive. Once at the resort we met with the wedding planner and made a few final decisions. The resort took care of everything. We had no stress and were not worried about anything. Everything was taken care of. Our wedding was flawless, far better than we ever dreamed it would be. We were fortunate to have twenty friends and family there with us to witness our wedding. The wedding was amazing, but the vacation in paradise with our friends and family was priceless. We recommend this to anyone who is planning their own wedding. Have a Sandals Weddingmoon and you will not regret that you did!
---
Tenesa and Grover
Sandals Antigua Destination Wedding
Molly, I want to thank you so much with helping us put this together. The wedding was beautiful and we enjoyed ourselves. My mother did too. Thanks again and here is a wedding picture.
---
Anthony and Gina
Sandals Antigua Destination Wedding
Molly, Everything was amazing. We had a lovely time and enjoyed every minute. I will keep all your new information on file because we are planning to go back the summer after next, we are trying to make a Sandals vacation every two years. We would like to more often, but we will see.
---
Cassie & Rico
Sandals Antigua Destination Wedding
The ceremony went really well. The officiant was very accommodating. We chose to write our own vows and ceremony words and she followed it to a tee (even if it was longer than normal). The only real complaint we had was that the wedding escort was a little late coming to escort us to the ceremony site. We chose to bring our own music and that wasn't an issue, either. The beach gazebo was gorgeous even though we opted not to do any decorations other than the natural ones. They did a great job packing up our Sand Ceremony vases so we didn't have any issues getting it home. The professional photos came out great (though I was a little worried since there was no real example of the quality of the photos online to view). I couldn't have asked for anything more, except maybe a longer honeymoon!
---
Art & Lindsay
Hey Molly, Thanks for emailing and asking how our honeymoon went. It was absolutely fabulous! It was a dream come true and I would suggest it to anyone. I would love to go back some day. Now I really know why they call it paradise. Thank you for all your help you were wonderful. Hope to talk to you soon with more trips to Jamaica. I will refer as many people as I can to you. Thanks again for all your help.
---
Debbie
Good afternoon Molly! I haven't gotten all of my Thank You notes out, but you are on my list.We had the best time of our lives. I could not of asked for it to be better. Thank you so much for all your help. The room was perfect and it overlooked the beach, as well as the pool. The wedding was comfortable without any worries. We loved our photographer and videographer. They had us laughing the whole time. It was too perfect!! Also, everyone there was absolutely wonderful. I will not forget you when we plan on going on a nice vacation again in the next year or so. You will be the first one we will call and or recommend to anyone else. Thanks again and have a super day!
---
Nick & Annette
Molly, Just a note to let you know that we had a great time on our vacation at Sandals Dunn River Resort in Jamaica for our 25th Anniversary! We know that we will plan another vacation there in the next few years. We have mentioned our trip to several of our friends and co-workers and have given them your name and e-mail address to obtain more information. We understand that if we refer someone and they book a vacation at Sandals we can obtain award points for the referral. Thanks again for all your help in arranging our vacation!
---
Gary Epps
Dear Molly, Oh Wow, did we ever have a great time. Sandals far exceeded the expectations of what even the brochures tell about. We had such a great time. Of course, we have the quartet to ride the wave of our own personal party making. We sang for 10 brides during the week. Our faces were everywhere and the staff and the guests requesting that we sing for them or were spotting the bride for us to surprise with "When I Fall In Love." Molly I know that most couples go to these resorts for the time with just themselves, but I would recommend that everyone go with friends to bounce ideas with and to share the experience. This is just an observation of the differences we saw with couples. Some of course mix well and others were very content to just have the time with each other. We of course had sooo much fun and at times were the only ones participating in aquarobics and talent show and costumes etc. Bragging of course, but we were a hit and I know Sandals would like to see us again. They did not however offer to pay us to do so, but I bet if we wrote today saying we are coming back next month they would offer something. Molly, this really was wonderful and we are all planning and starting a savings account to get back there perhaps for next year.We will plan to stay in touch. Thanks.
---
Lee Craig
Molly,we had a wonderful time. Before it all cools into a lovely memory, here are some thoughts about our Sandals Whitehouse vacation. We arrived late, hungry and tired. We weren't interested in doing anything more than getting dinner. I saw lots of nice tours being given new-comers who arrived during the day, but the staff is also good at skipping the formalities for starving guests. Everyone has the famous Jamaican graciousness but the staff is new and I noticed that they are less polished than the crew at the Royal Caribbean site. Whitehouse is positioned as a European Spa facility and the spa is fabulous. The spa rooms are beautiful, even one double room with its own hot tub. The spa has a central courtyard with a hot tub and a cold (refrigerated!) tub anyone can use. There are many wonderful spa treatments being offered. We loved this aspect.Everyone says the joy of a Caribbean vacation is meeting the people. We agree. The staff is fabulous and we made many friends during our week. All-in-all, I wouldn't have changed a thing. It was a fabulous time. Thanks for all your help in getting us there, Molly. We really appreciate you.
---
Nick & Annette l
Molly, Just a note to let you know that we had a great time on our vacation at Sandals Dunn River Resort in Jamaica for our 25th Anniversary! We know that we will plan another vacation there in the next few years. We have mentioned our trip to several of our friends and co-workers and have given them your name & e-mail address to obtain more information. Thanks again for all your help in arranging our vacation!
---
Rachel Seashore & Marc (Paul) Goode
Hi Molly, Just wanted to let you know we would like to be part of your referrals program and have recommended you to some folks who are hoping to do some sort of Caribbean wedding vacation as Paul and I did…We really did have a GREAT wedding and vacation and wouldn't change a minute of it. Thanks for all your help. We will of course recommend you in the future any time we have opportunity.
---
Rudy & Kasey
Dear Molly, Thanks for the e-mail! It was wonderful at Sandals Grand Ocho Rios! It is a really big resort! The people were wonderful as always and we are missing it greatly! We will sure to pass your name around so please include us in the referral program. You were so much help to us and I am sure we will be calling you again when we are ready to go!! We hope to maybe go next time with the kids to Beaches Negril! Take care!
---
Stacy & Scott
Hi Molly, We just returned from our Sandals honeymoon in Jamaica and wanted to let you know we had a fabulous time. The beach in Negril was spectacular, and they upgraded us (I think like 3 categories) to a beach front ocean view room. The beach at Ocho Rios was pretty lame after Negril, but the pool was awesome and we loved the cabanas. We liked the food better at Negril, but service was great at both places.Thanks for all your help and recommendations, flights etc. went off without a hitch. It was a great time and we truly appreciate all you did to make it a great honeymoon!
---
Takishia & Kyle
Molly, We had a wonderful time at Sandals Grande Ocho Rios. It was a beautiful resort with very courteous and fun staff, great food and drinks, and just an overall fun, positive vibe. We would love to be in your rewards program and we will definitely refer anyone who is talking about taking a trip to you. Kyle and I are really going to try to go again within the next couple of years so we will give you a call when we are ready to book. Thanks again for all of your help and insight!!
---
Tawny
Hi Molly,We had the most unbelievably wonderful time!!!! We want to go back next year. I will definitely let other people know about you. Sandals resorts are better than I could have ever imagined.
Thank you so much, and I will be sure to sign us up on that website.
---
Wendy
Dear Molly, Yes we did have a wonderful time at Sandals Negril. The room was great, the hotel and the staff were lovely we loved the food. Thank you so much for your help. You helped make our honeymoon very special and I will definitely contact you for future vacations.
---
Bree and Jerry
We had a wonderful time. We did get the two room villa and the other room was mostly empty. Thank you so much for that!!! It really did make all the difference. The butler is the only way to go! We went on 3 tours. Innertubeing on the white river, Horseback riding in the ocean and best of all I got to swim with the dolphins. We went snorkeling, kayaking and all that. How cool. Our first night they had a beach party at the Rivera and from there we went to Margiritaville. How much fun. I can't put words to how cool the whole thing was. We had a 30min. massage. Then we had a chamomile and Champaign bath with a 60min. side by side massage after horseback riding. The food on the pier at the Rivera wasn't great. The Italian and Asian restaurants were great. Rum raisin ice cream is to die for! Again, thank you so much. The rum was great also!
---