What is Sandals Butler Service?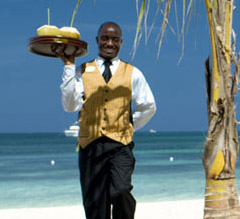 Butler Service © Unique Vacations, Inc.
"My husband and I have been treated to Butler Service at seven different Sandals resorts over the last three years and this service is absolutely amazing!
When we arrived at the resort (once, via VIP Mercedes Benz private transfer and another time, a Rolls Royce!) our Butler took care of check-in…with champagne, of course!…while we relaxed in the suite. While we changed our clothes and headed for cocktails and dinner, he unpacked our suitcases, hung up our clothes and even spread tissue in the drawers before arranging our clothes there. He gave us a cell phone so we were always in touch. Our Butler reserved prime location lounge chairs at the pool and beach in our name. He delivered a cooler of our favorite beverages to the beach or pool, whether it be water, soft drinks, champagne or beer. One day our Butler called from the sandwich table at the buffet to ask exactly what I would like on my sandwich that I had asked be delivered to my lounge on the beach! Our Butler handled all of our dinner reservations with prime table locations and escorted us to dinner, where we discovered linen cloths covered in flower petals. Our Butler arranged private in-room meals – breakfast, lunch or a candlelit dinner – with a special menu personally served by our Butler. In the late evening we came back to our room to find that our turn-down service included towel art in the form of intertwined swans, surrounded by flower petals with candles with soft music playing in the background. My personal favorite? When the Butler prepared a bubble bath in the whirlpool tub, complete with candles and an iced bucket of champagne! Then, when regrettably we had to leave, our Butler packed our bags and escorted us to our vehicle for transfer back to the airport.
Butlers ensure that all whims and wishes will be met at all times…in short, a Butler will do anything you ask as long as it is legal! We had doubts prior to our first Butler experience but now we are enthusiastic converts. Butler Service makes an already special event that much more memorable!"
by Molly Sumption, Caribbean Honeymoon / Sandals Expert, Seattle & Portland / subscribe to RSS feed